Experience the Positive EnPak® Impact
---
For jobsites that depend on generator and pneumatic capabilities but don't need hydraulic support, the EnPak® A60GE is the perfect solution. Driven by a powerful diesel engine, generator and air compressor, the unit efficiently drives high-demand electrical devices and air tools without the added expense of a hydraulic pump. It's another way TSVA gives work truck operators the tools to get the job done right!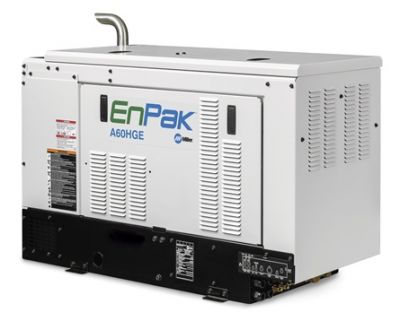 Let's talk efficiency … the 24.8 hp diesel engine in EnPak A60 systems uses up to 30 percent less fuel than a work truck's engine and costs much less to maintain. The EnPak A60's exclusive design reduces fuel use for significant cost savings while delivering the performance that users demand. The result: maximum productivity!
EnVerter™ technology delivers up to 2,400 watts of continuous 120 V, 60 Hz, pure sine wave power at low engine speeds, providing power for many tools and lights while reducing fuel consumption and helping decrease jobsite noise.
Load-management system monitors accessory requirements and adjusts the engine's speed to match demand, delivering only the amount of power required. This maximizes fuel savings while allowing for simultaneous operation of the generator, compressor and hydraulics, with the additional benefit of jobsite noise reduction.
Auto start/stop technology shuts off the engine when no accessory loads are detected, increasing fuel   savings as well as reducing jobsite noise and exhaust emissions. When a load is applied, the engine starts quickly, supplying the power necessary to perform the job.
60 cfm air compressor supports multiple and wide-ranging field applications.
More efficiency, and less wear-and-tear on your truck … it's a combination that can't be beat. And when it comes to building your perfect truck, TSVA can't be beat! The powerful EnPak system is available on all service trucks and is just one if the many advanced and personalized features you can get from Truck Service of Virginia. Learn more about your next truck, and the financing options available to help you get it.